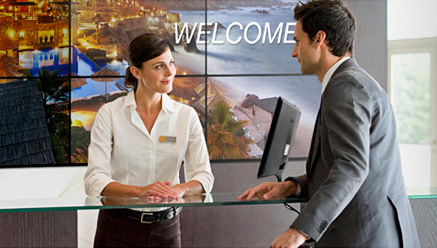 Our story
Founded in 2010, DSSC Europe has been a leading software consulting provider for Digital Signage products across Europe, Middle East, Africa and CIS. With unmatched expertise in Digital Signage, DSSC Europe can support customers to maximise their use of Digital Signage tools to create dynamic and innovative communication experience through tailor-made display solutions.
Our services extend from SW development and customisation to customer specifications, technical support, contents management to web-hosting service. DSSC Europe also provides IT service for your business including data management, network infra management and hosting services for applications, websites and e-mails, as well as any technical trouble-shooting.
Testimonials
Ok cards on the table time…..

I had a train wreck of customer service from Samsung on Friday. I don't have the time to tell you of my woe in detail sufficed to say that I was told nonsense from 3 different agents of yours, hung up on once and generally mucked about.

I was also told that my BRAND NEW digital displays were faulty and would have to be sent back for repair….. Repair….4 weeks old and you want to get me to send them back for repair?????
Anyway I want to let you know that Richard Lofthouse saved you getting 2 very expensive displays sent back to you in disgust.
So whatever customer service award you give out to people who go above and beyond…. I want him to get it. I would be very much interested if you could send me a copy of the award so that I can show people what happens when you give outstanding customer service.
I cannot stress enough….. if it hadn't been for his efforts I would have ripped them off the wall myself and sent them back to you…. never to spend a penny with you again.
Well done that man. I just wished I didn't have to go through hell on earth to get to him in the first place.
Thank you, guys a lot!

Thank you very much for the prompt!

Once again convinced of your professional skills!
Using your solution, we saved a lot of cost for hardware replacement on this project
I am writing this to thank you one more time for your support to my customer in Spain . Thank you for the software solution you developed".